Meaning Of Sunstone
The spiritual meaning of Sunstone is the representation of the ultimate energetic source of light, warmth, and life on our planet.
Its rich reddish-orange facets contain all the healing power as the star, which shines high in our sky. It is the representation of Ra in Egyptian mythology and Helios in Greek mythology, both representations of sun gods.
Even further back, indigenous peoples believed that this crystal fell during solar eclipses, a part of our sun fallen from heaven.
Other cultures refer to it as a "phenomenal stone" for its way in which the light changed off its many angles during the day, with some even only wearing it on Sunday.
Sunstone is a stone of the divine masculine energy. As a perfect complementary stone to Moonstone, Sunstone embodies the Yang half of the Yin Yang duality, the part of universal life force energy which centers around expansion, action, forward movement, and linear qualities.
By working with Sunstone, you can begin to develop your masculine qualities, regardless of your gender.
This means that specific tasks or challenges which require more masculine energy will become more accessible, such as increasing assertiveness, leading groups of people, or completing tasks that require you to work alone, relying on only your strength.
Sunstone has also been used in spiritual ceremonies and rituals throughout the ages. First Nations in Canada incorporated Sunstone into their medicine wheel healing ceremonies.
By placing Sunstone in the medicine wheel's center, they were able to show their patients the healing power of the sun. When contacted by a spirit guide, the stone would change different colors and shine.
Similarly, Sunstone has been used to treat rheumatism throughout history. By sitting in the sun and surrounding themselves with Sunstones, patients could receive the powerful healing which this stone can provide. Also, having extended contact with Sunstones has been said to provide relief to feet and spinal problems.
Sunstone also carries in it the power of the color orange as well as the sacral chakra. Both of these energetic focal points pertain to your creativity, your leadership, your free will, and also your sexuality.
By working with Sunstone, you can refocus on pursuing the passions and drives that light a fire in your soul. This stone is not about inner reflection; it's about outer action, taking charge, manifesting your dreams, and improving your can-do attitude.
Sunstone also works to improve movement, physically, emotionally, and spiritually. It increases your joy and metabolism, leading to increased levels of heat and exertion.
By wearing it during physical activities, you can improve your energy and work through difficult challenges, which may have caused you to feel sluggish in past events. It encourages you to get out of stuck routines and bad habits that are no longer serving you.
By working with Sunstone, you may be more able to enter into a new beginning or new chapter of your life. The Hindu god Ganesha is often depicted in Sunstone sculptures for his representation as the god of new beginnings.
Properties Of Sunstone
Sunstone's warm shades of gold and red, sometimes orange or brown, will make you think you're looking at the sun. These colors are what gave the stone its name.
Sunstone may be clear and transparent sometimes, and you can see traces of Goethite or Hematite on it. But there are also opaque sunstones available in the market.
Sunstone is also called Aventurine Feldspar and Goldstone, and it's known to attract the powers of the sun.
Sunstone deposits have been found in the USA, Canada, Norway, Russia, Greece, and India.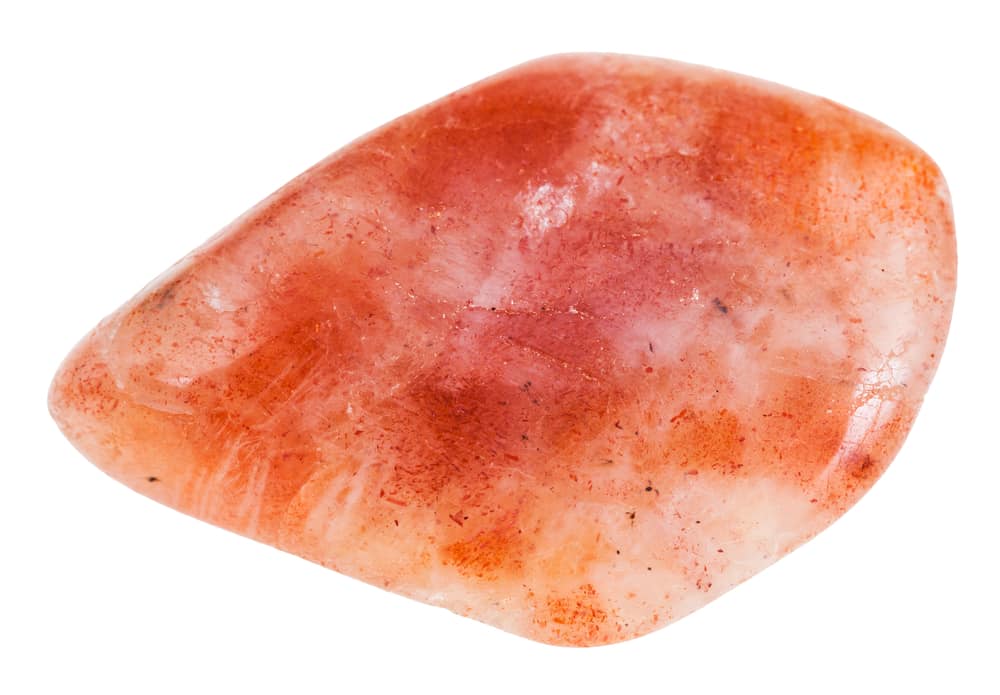 Benefits Of Sunstone
You will never run out of reasons to love this stone because it's ripe with wonderful and positive energies.
Sunstone is all about freedom, self-empowerment, and independence, and this stone can indeed be your best companion!
It will make you appreciate the fact that you can make decisions about your life, that you are free to do whatever you want, and that you can love whoever you want to love.
Sunstone will remind you that you are doing a good job building a life for yourself. This stone will encourage you to keep working hard to achieve your dreams.
It's a stone of leadership that will showcase your abilities, strength of mind, and expanded consciousness.
It will show the world that you are more than people think you are, and they will be pleasantly surprised at all the great things that you can do.
Sunstone is a joyful stone because it reflects the qualities of light. It invites you to be open, warm, and kind. It will bring about a willingness to give joy and happiness to others.
Sunstone carries with it energies of originality and inspiration. If you ever feel stuck or unproductive, and if you ever feel like you are not able to churn out new and effective ideas, just hold this stone in your hands. It will feel like a switch has been turned on and ideas will just naturally flow.
It will encourage you to reveal your hidden talents. It will heighten your sensuality and give romance a surge of freshness.
It will bring you luck in all aspects of your life and energize all your chakras. It will give you stability and mental clarity.
Sunstone will give you an extra boost of energy when you're feeling stressed or under the weather. It's a natural anti-depressant, so it will also keep sad thoughts and emotions away.
It will instill good nature in you. Sunstone energy will allow the real you to shine through, and people will love you for it. No matter how weird or different you think you are.
It will fill your life with enthusiasm, optimism, and encouragement. Its energies will make you feel glad to be alive, and you will be filled with energy and cheer.
Having Sunstone with you can be particularly useful when you're working on a project that will run for months, or when you're on a fitness program that requires commitment.
It will strengthen your resolve and your commitment, and it will make sure that you're in it from start to finish.
Sunstone will heighten your intuition and strengthen your instincts. They will be right most of the time, too.
Sunstone will dispel irrational fears that are preventing you from achieving your dreams or finding the love that you desire.
It will increase your self-confidence and self-esteem.
This is a particularly good stone to have for people who find it hard to say no.
This stone also has self-healing powers that will benefit you in a physical, emotional, mental, and spiritual way.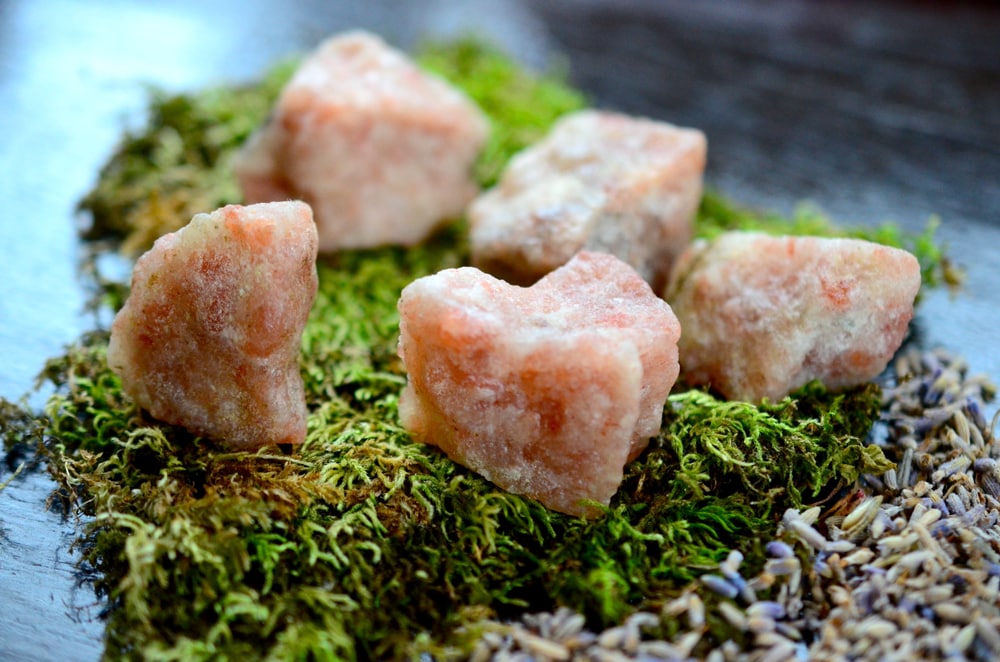 The Powers Of Sunstone
Healing Powers
Sunstone can promote balance and harmony among the body organs so that they will function properly. It also has the ability to increase the self-healing abilities of the body.
It can help treat chronic sore throats and reduce pains related to stomach tension and ulcer. It can also aid in the treatment of cartilage and spinal problems.
Sunstone will help increase your metabolism by improving your digestion and retaining your body's vitality
It's very good in treating rheumatism and other general aches and pains. Plus:
It can ease symptoms of depression and Seasonal Affective Disorder.
It can also be very good in stopping night terrors and nightmares.
It's a very good remedy to phobias or stress-related illnesses.
Sunstone For Wealth
Sunstone is associated with luck and good fortune. When you work hard and tap into the energies of Sunstone, your efforts will be magnified, and favorable results will come your way.
It will restore the enjoyment of life, your good nature, and the flow of abundance.
It will also attract fame or unexpected prosperity.
Sunstone is a good luck crystal when you are joining competitions. In a workplace setting, this stone can bring opportunities for promotion.
It will also dispel stress or fear, and it will protect you from anyone or anything that will drain your finances and your energy.
Sunstone can also encourage your self-belief, and for many of us, this is the best way to attract good luck!
Self-confidence helps you to have faith in your ideas and the directions they take you, not to mention recruit allies and partners who will help realize your goals.
Sunstone shines a light on your ambitions and sparks up your urge to go and make things happen.
Sunstone For Relationships
Sunstone is also a stone of romance. If you want something to change in your love life, this is your go-to stone.
It can turn a problematic relationship into a stronger and more loving one. If you're going through a rocky patch, this will help you iron out your differences.
If you want to enhance your power of attraction, always carry this stone with you. Your aura will be more attractive to other people who are also looking for love!
Sunstone will stimulate sexual arousal and increase your sexual energy. It will help you become a more passionate and sensitive lover. It will even address problems related to sexual dysfunction!
It's a source of strength for anyone in a relationship, especially for someone who relies too much on their partner emotionally.
It will make you realize that being in a relationship does not equate to being weak and vulnerable.
This is also an excellent stone for those who are suffering from the demise of a relationship or the sudden loss of their partner.
Sunstone will melt away feelings of insecurity and unworthiness, as well as fears of being abused or abandoned.
You are loved because you are worthy of being loved, and you only become a certain way because you allow yourself to be.
Sunstone will balance your emotional patterns and help you transform into someone that's worthy of loving and being loved.
It will help you release thoughts and feelings that are not good for you and your relationship.
Sunstone will turn your hatred into love, and your anger into joy. It will open your eyes to the real meaning of love.
You will be more open to being a blessing to other people with your love, care, and compassion. With the help of your sunstone, you will be stronger and better at love and romance.
Using Sunstone
When placed with a white candle, sunstone can help spread protective energies throughout your home or office.
As Jewelry
Sunstone is also linked to Moonstone. When you carry these two stones together, you will be able to harness the energies of the Sun together with the energies of the Moon.
You will have the energies of success, protection, healing, spiritual, peace, and love.
When you wear it as a ring and put in on your receptive hand, sunstone will help you receive what you wish for, need, or desire.
For Meditation
Sunstone crystals can also be used as a tool in meditation. It's up to you if you want to wear it for this purpose, place it in the area in which you intend to meditate, or even just to hold your Sunstone as you enter the meditative state.
True to its name, this crystal will help shine some illuminating light on that which has been troubling you.
Similarly, its light influences will protect you from darker energies that might do you psychic harm if you move towards them unprepared.
The Best Stones And Crystals To Combine With Sunstone
Sunstone is really compatible with other healing crystals and stones.
While its energies can be a bit overpowering at times, and even a little too hot to handle, they balance out well with more serene crystals. Experimenting with different combinations can be a lot of fun!
A really interesting and common crystal combination is Sunstone together with Moonstone.
For Amplifying Energies
The best combination for Sunstone will be crystals that are also fire stones. Some examples are Amber, Red Jasper, Fire Opal, Fire Agate, Carnelian, and Citrine. These stones will amplify each other's energies.
You can also pair your Sunstone with Sugilite, Labradorite, Selenite, Fluorite, and Amethyst.
For Manifesting Dreams And Desires
If you wish to have your dreams and desires manifest in your life, you can combine Sunstone with any kind of Quartz, or Black Tourmaline, Magnetite, Pyrite, or Citrine.
Cleansing Sunstone
If you own a Sunstone and use it often, it will need to be cleared and cleansed regularly.
The clearing process is necessary before using any stone for healing because the clearer the energy of a healing stone is, the more powerful it will be.
Your Sunstone needs to be cleansed as soon as you buy them and after every use. A ready and clean Sunstone feels positive, bright, tingly, and cold to the touch.
You will know when your Sunstone needs cleansing when it starts to feel hot, heavy, or drained. There are many ways to effectively cleanse your Sunstone.
Sea Salt Cleansing
Sea salt gets rid of any kind of negativity and is a very effective disinfectant of both physical and psychic disruptions.
Use sea salt every time your Sunstone is overloaded with negative energy. Just a tablespoon of sea salt and a glass of cold water is all you need. Let your Sunstone soak overnight.
To use dry salt, place some in a non-plastic container, and leave the Sunstones there overnight with their points downwards.
Sometimes a Sunstone may take longer to clear, primarily if it has been used in deep, intense healing. If this is the case, leave it another day or two in the sea salt.
If you live near the ocean, you can bring home some saltwater in a jar or wash the Sunstone directly in the ocean water.
Moon Light Cleansing
Moonlight is another method of cleansing your Sunstone. Simply place it outside on a full moon or a new moon.
Waning moons are good times to cleanse your Sunstone and dispel old energies, but anytime really works.
It is suggested to hang your Sunstone jewelry in a tree where the moonlight can cleanse it.
Try to avoid placing them under the direct heat of the sun because their colors may fade, or they may break or crack.
Sage And Herb Cleansing
Burying your Sunstone in a cupful of dried herbs like sandalwood, myrrh, frankincense, sage, and rose petals will also clear them.
This is a gentle and pleasant way to cleanse crystals, but it does take longer than the sea salt method.
Earth Cleansing
Crystals may also be buried into the earth. This is especially helpful when you feel that your Sunstone needs deep cleansing.
Just head outside and dig a hole the same size of your Sunstone, placing it point down and covering it with the soil.
If you live in an apartment, you can use a flower pot to bury your Sunstones in.
Smudge Cleasing
Another quick way to cleanse Sunstones is to smudge them with burning cedar or sage.
Smudging is an excellent way to make sure your Sunstones are purified. This can be achieved by letting your Sunstone pass through the smoke of the burning cedar or sage stick.
Water Cleansing
Finally, you can also cleanse your Sunstone by running them under cool tap water.
The points should always be facing downwards to let the negative energies flow out and down the drain.
During this process, visualize the Sunstone as sparkly, tingly, cold, and belonging to just you!
My Final Thoughts On The Power Of Sunstone
Powered by the radiance of the sun and the strength of its fire, Sunstone brings power and energy from within the earth and straight into your life.
It will help bring the wisdom of your heart in alignment with the inspiration of your mind, and it will be beautiful and wonderful!
Sunstone is known to attract the powers of the sun, and it will cleanse your chakras from anything that's not good for you.
It will surround you with love and positive energies that you cannot help but be a source of happiness for everyone around you.
It's a protection stone, an energizer stone, and a good luck stone in one. It's a stone that will make you ready for the challenges of life and strengthen your belief that life is truly worth living.
Wearing Sunstone and carrying it around with you will definitely feel like you have the sun right on your shoulder!
And if this article helped you better understand the healing powers of this wonderful stone, please consider sharing it 🙂