Alternate Names or Spellings: Tourmilated Quartz, Tormilated Quartz, Tourmaline in Quartz
Tourmalated quartz, also known as tourmaline in quartz, is an excellent protective stone, and brings balance and inner strength. It deflects and grounds negativity, and reduces anxiety, stress, and depression.  Note that healing crystal meanings are spiritual supports to healing and are not prescriptions or healthcare information.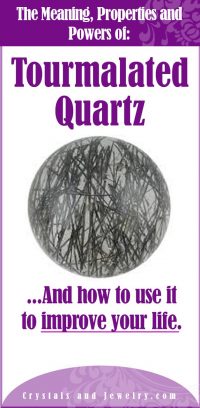 Tourmalated Quartz also has the energetic properties of quartz and tourmaline. Schorl, aka black tourmaline is most often seen, though green tourmaline is common. Indicolite blue tourmaline in quartz is an uncommon stone and is usually referred to as Paraiaba blue quartz. Multiple colors of tourmaline may be found in the same quartz.
Tourmalated quartz is related to the crown chakra and other chakras as relate to the color and type of the tourmaline inside.
Tourmalated Quartz with Black Tourmaline