Poppy Jasper Properties
Poppy Jasper is a variation of the Brecciated Jasper.
This stone is characterized by its orbicular patterns of brilliant red "poppies" amid speckled shades of white, yellow, brown, and black.
Poppy Jasper is formed when the Jasper fractures, and crystals of hematite or quartz, or both, are created in the resulting spaces.
The name Jasper is from the Greek word for "spotted stone".
This stone can be found all over the world, including countries like the USA, Kazakhstan, Madagascar, Uruguay, Russia, Canada, India, Australia, Brazil, and Egypt.
Why Would You Use Poppy Jasper?
Poppy Jasper is a happy and joyful stone associated with poppies and with remembrance.
It will bring your life vitality and cheerfulness, and it will remind you of your duty to humanity to be kind and compassionate!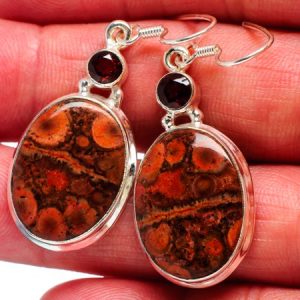 Poppy Jasper will promote activity, enthusiasm, and dynamic energy in your life.
It will increase your inner strength and mental fortitude to help you with life's daily challenges.
Poppy Jasper has a beautiful color and a rich warmth that will lighten the mood in any space and uplift the energies of anyone who wears it.
This stone is a beautiful reminder that everyone in this world is here to love and nurture other people!
Just like Fuchsite, Poppy Jasper is a stone of courage and energy that will raise your vitality and your vigor.
It will boost your physical endurance and help you find the balance between your physical and emotional needs.
It will work on your inner strength and encourage you to have a more proactive approach to your life. This stone will energize your body, heart, mind, and spirit.
Poppy Jasper will enliven your body by bringing uplifting energies to areas where the flow of energy is clogged or blocked.
These energies will eliminate any physical impediment, energetic blockage, and old patterns so that your body will be ready to receive more life-giving energies.
Poppy Jasper will act like a jolt of adrenaline, waking and energizing areas of your body that appear to be dormant or stagnant.
Wearing Poppy Jasper with Lemurian Seed Crystal will encourage a stronger appreciation of your connection with life and with the universe at work.
It will also inspire an optimistic and joyful attitude and give you the motivation to take action.
Poppy Jasper is also known as the Supreme Nurturer, and it works to provide you with centering, grounding, and stabilizing energies.
A lot of people use Poppy Jasper to have a sense of security and comfort, and to increase feelings of peace, serenity, and wholeness.
The energies of this stone can give you just that the more you wear it close to your body!
How Will Poppy Jasper Help You?
Poppy Jasper, Healing and Health
Poppy Jasper can help in the treatment of blood disorders like hemophilia. It can also aid in heart problems.
Physically, Poppy Jasper is beneficial for the digestive and circulatory systems.
It will also support the sexual organs, and give a health boost during prolonged illnesses.It will also help the body during the recovery and repair periods.
Poppy Jasper and Wealth
When it comes to your money or financial goals, Poppy Jasper will encourage you to think on your feet.
It will also improve your organizational skills so that you will always keep track of what you need to do and what you have accomplished so far.
It will help you transform your ideas into action. It will give you the determination to see your tasks to completion.
If you pair it with Scapolite, this stone will encourage the development of fresh new ideas so that you will not run out of things to work on.
Poppy Jasper will give you the courage to deal with your financial problems confidently, assertively, and effectively.
The energies of Poppy Jasper will also give you peace, tranquility, and reassurance during stressful times.
This stone's strong and grounding energies will help you achieve emotional stability and bounce back after dealing with money or business issues.
Poppy Jasper, Love and Relationships
Poppy Jasper is a strengthening and grounding stone that can align chakras, just like the October Birthstone. It will bring strength, willpower, and courage to your relationship.
It's known to ease and relieve heartaches and bring back the emotional balance.It will bring more peace, love, and happiness to your relationship.
It will also fill in the gaps or the empty spaces that make you feel like something is missing!
Poppy Jasper is also a very energizing stone.
It will inspire a positive and joyful outlook and ease your worries.
Poppy Jasper will balance and align the physical, emotional, and mental bodies. It will protect and ground you, and it will make sure that you get past your relationship challenges alright.
This stone can be gently stimulating or passionately fiery when you want it. It will give you the impetus for many new romantic experiences!
How to Use Poppy Jasper for the Best Results
Poppy Jasper will boost your efforts to change your current situation, improve your romantic, business, or professional prospects, boost your health, or influence your outlook.
It will aid your efforts to learn, grow, and transform so that you will become a better person.
Keep this stone close to your body. Bring it with your wherever you go. Place it at your favorite spot at home or in your area at work.
Doing so will ensure that the stone's energies are close to your personal auric fields.
It will keep you protected, stable, grounded, and secure. It will motivate and inspire you, and it will help you release the stresses of the day!
Poppy Jasper is a very durable stone and can be found in a lot of jewelry designs. This means that it can also be exposed to dirt and wear.
Make sure that you take off your Poppy Jasper jewelry before playing sports or doing other activities that will result in perspiration.
Clean your Poppy Jasper with a soft dry cloth to maintain its polish. Clean it right away if it gets soiled because it's porous and can easily stain.
Wash it with warm, soapy water and a soft brush. Dry it thoroughly with a soft cloth.
The Best Combination to Use with Poppy Jasper
Poppy Jasper can be a good stone to fight off or relieve symptoms of allergies when you combine it with White Coral, Moldovite, Garnet, Dolomite, Carnelian, Aventurine, or Apatite.
When you want to be more organized, coordinated, and methodical in your approach to life, love, and everything else, pairing your Poppy Jasper with Tiger Iron, Red Jasper, Lepidolite, King Cobra Jasper, Fluorite, Dumortierite, and Bloodstone will help you achieve just that!
If you want to surround yourself and your loved ones with more loving and protective energies, you can pair Poppy Jasper with Red Jasper, Yellow Jasper, or any color Kyanite.
When you're feeling a little stressed and want to enjoy a little rest and quiet, you can combine your Poppy Jasper with Yttrian Fluorite, Wonderstone, Variscite, Turquoise, Tsavorite, or Tourmalated Quartz.
You can also pair it with Sunstone, Staurolite, Smokey Quartz, Rose Quartz, or Richterite.
Poppy Jasper with Pink Manganocalcite, Picasso Marble, Peridot, or Moonstone will also imbue you with feelings of tranquility and serenity.
You can also use it with Malachite, Lithium Quartz, Lepidolite, Labradorite, Kunzite, Howlite, Hematite, Galaxite, Fluorite, Fairy Quartz, and Dravite.
Poppy Jasper's energies will melt your stress and anxieties away, especially when you pair it with Agate, Chevron Amethyst, Dolomite, Dioptase, Aragonite, and Azurite Malachite.
Poppy Jasper will bring you energies of success and abundance when you use it with Tanzanite, Scolecite, Scapolite, Orange Moss Agate, Green Tourmaline, Gaspeite, Green Moss Agate, Citrine, Aqua Aura Quartz, or Aventurine.
Poppy Jasper and Spiritual Energy
Poppy Jasper carries spiritual energy that will energize your physical, emotional, mental, and spiritual body by addressing the areas where the energy flow is blocked.
The spiritual energy of Poppy Jasper will break up these energetic blockages so that you will be able to receive more life-giving energy.
Poppy Jasper will be like adrenaline to your system that will give you a rush of blood to the head and wake you up.
It will energize areas of your life that seem to be sleeping, sluggish, or stagnant.
When you regularly use, carry, or wear Poppy Jasper, you will also enjoy a deeper connection with the life of the earth.
The spiritual energy of this stone will inspire a happy and optimistic attitude and give you the enthusiasm and motivation to take action.
Poppy Jasper is known to be an energizing stone. It will inspire a cheerful outlook towards life and help to ease your stress.
And because it supports and stimulates creativity, it will help you become more organized.
Poppy Jasper is often viewed as a stone of energy, courage, and strength. It fosters inner strength, dynamic energy, and activity.
It's also a very helpful stone in striking the balance between your physical and emotional side.
Like the rest of the Jasper stones, Poppy Jasper will work to ward off negative vibrations, as well as protect you and ground you.
It will also support you in balancing the physical, emotional, and spiritual energy in your body.
It's a terrific basic stone if you're new to crystals and stones. Everyone should really have a piece of Poppy Jasper with them whenever and wherever.
The spiritual energy of this stone will help you bring or restore balance into your life. It will also help you avoid burnout with whatever you're doing.
Poppy Jasper will give you the courage to speak out and have your own opinions. It will inspire personal independence as well.
This is a stone that will protect you from your own fears. Its energy is believed to have the power to attract luck, abundance, and prosperity, too.
It's a very gentle and soothing stone that will enhance your ability to relax and be peaceful. It's a highly comforting stone that will bring you healing, wholeness, and wonderful endings.
The spiritual energy of Poppy Jasper will also protect you when you perform astral travel. It will make sure that no harm will come to you from negative energies that threaten to enter your auric field.
Poppy Jasper also has the ability to bring joy into your life. It carries the vibrations of relaxation and wholeness.
Make sure that you have a piece of Poppy Jasper with you in your bag, in your pocket, or on your body. It's a stone that will bring you loads of happiness and a brighter outlook on life.
Its spiritual energy will also help you ease your stresses with each day. It will make sure that you are grounded and stable no matter what challenges or unexpected events come your way.
With the help of Poppy Jasper, no challenge will be too difficult and no obstacle will be too impossible to overcome.
My Final Thoughts on the Power of Poppy Jasper

Poppy Jasper is an extremely nurturing and caring stone that will make a difference and leave an impact in your life.
Whether you want Poppy Jasper as an addition to your gemstone collection, or you just want to benefit from its energies, this stone can really make a wonderful addition to both your collection and your life!
Its rich and attractive red hues will look perfect anywhere you wear it or place it.
Poppy Jasper will encourage you to be attuned to your thoughts and emotions, and it will increase your communication with everything around you!
It's a stone of physical vitality and strength. It's often used to achieve mental clarity and focus, especially when you have just experienced a traumatic event or experience.
It will cleanse and stabilize your personal auric fields.
It will remove any negativity in your aura or from any space that you move in, and it will give it back to its original source.
Poppy Jasper can overcome shame or guilt. It will calm aggressiveness and allow you to calm your emotions easily during emotionally charged moments.
It's also a detoxifying stone that will remove toxins and promote good health and speedy recovery from illness or injury.
It's an amazing grounding stone that will support you when you feel overwhelmed by your daily tasks.
Poppy Jasper will show you how to become more organized, and it will teach you how to release your worries in healthy and creative ways!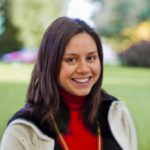 Diana Houston is a respected crystal expert and the author of 'A Beginner's Guide to Healing Crystals: Getting Started With Crystal Healing – A Complete Guide.' Her passion for crystals and their healing properties made her a leading authority on the subject.
Diana's expertise and passion for crystals have inspired countless readers and practitioners, and her book has received rave reviews on Amazon. With her clear and insightful guidance, Diana is a trusted guide for anyone seeking to unlock the transformative power of crystals.
Available on Amazon!