What Are Tumbled Stones?
Tumbled stones are small, rounded, and brightly polished rocks, crystals, and minerals.
They are created by putting rough rocks in a machine called a rock tumbler. It tumbles the rocks until their edges and surfaces become smooth, shiny, and polished.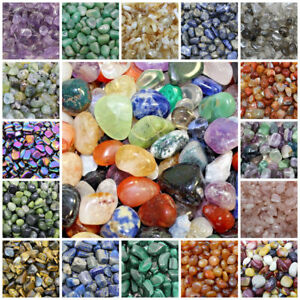 Tumbled stones are also sometimes called tumbled gemstones, polished stones, polished rocks, baroque gems, and many other names.
A lot of people enjoy collecting tumbled stones because they are naturally beautiful materials that can be shaped and polished even more beautifully.
If you're wondering what some tumbled stones uses are, they are quite popular in jewelry and crafts, and as collectibles and souvenirs.
They're a hit in New Age fairs and markets as well! Tumbled stones can be purchased usually by the pound at very affordable prices.
Because of their colorful, pretty appearance and interesting shapes, they have inspired a lot of people to know more about gemstones, crystals, rocks, and minerals.
What Materials Are Used to Make Tumbled Stones?
In making tumbled stones, colorful rocks and minerals that have a hardness rating between 5 and 8 are often used. They are quite durable and can be given a good polish.
Some of the most commonly used materials for tumbled stones include different varieties of Chalcedony like Agate, Bloodstone, and Jasper.
Different varieties of Crystalline Quartz can also be tumbled, like Amethyst, Aventurine, Citrine, Orange Quartz, Rock Crystal, Rose Quartz, Smoky Quartz, Tigers Eye, and Yellow Quartz.
Minerals like Amazonite, Beryl, Chrysocolla, Fluorite, Garnet, Hematite, Labradorite, Malachite, Moonstone, Nephrite, Orthoclase, Rhodonite, Sodalite, Sunstone, and Turquoise also have tumbled stones uses.
Rocks like Basalt, Granite, Lapis Lazuli, Obsidian, Picasso Stone, Quartzite, Rhyolite, and Unakite also make very lovely tumbled stones.
Fossil materials like Mookaite, Petrified Wood, Silicified Coral, and Turritella are acceptable materials for tumbled stones as well.
How Are Tumbled Stones Made?
Tumbled stones are made using a rock tumbler. The most common type of rock tumbler is rotary that rotates a barrel with the rocks together with abrasive grit for several days or weeks.
As the rocks tumble inside the barrel, grains of abrasive grit get caught between the rocks and scrape off the sharp edges and points.
This modifies the rocks' shapes and gives them a more rounded shape. Small silicon carbide granules are employed to smooth out the surfaces for polishing.
Lastly, a rock polish is used to create a bright and polished surface on the rocks. This whole tumbling process using a rotary tumbler usually takes a few weeks to finish.
Companies use commercial machines that are big enough to tumble up to three tons of rock at a time.
These companies purchase their rocks by the ton and are able to make tumbled stones at affordable prices because of this.
A lot of people buy their own rock tumblers because they like making their own tumbled stones for their own collection.
Rock tumblers can be inexpensive, but they usually make very loud noises and produce polished stones of poor quality.
There are also more durable metal rock tumblers that have rubber barrels and can tumble several pounds of rock material at one go.

What Are Some Popular Tumbled Stones Uses?
Tumbled Stones uses are quite varied because of their affordability and abundance.
Depending on the size of the tumbled stones and the material from which they are made, they can usually be purchased anywhere from 50 cents per tumbled stone to $100 per pound of tumbled stones.
The most common types of tumbled stones usually sell for about $10 to $20 per pound. Here are just some ideas of tumbled stones uses that you can try if you're running out of ideas!
Rock Collections
A lot of people collect tumbled stones just because of how beautiful they look when placed together in a dish or a glass jar.
Tumbled stones are quite an inexpensive and easy way to get started on your colorful gemstone collection.
Crafts
Tumbled stones can also be used in many craft projects. They can be added as unique, colorful, and interesting decorations on different objects.
When you take tumbled stones like Yellow Quartz, Orange Quartz, Carnelian, and Amethyst and use them together, they can create a pretty accent on frames, mirrors, or even shadow boxes.
They can make anything look like a very special and personalized work of art. You can also use tumbled stones to decorate a note stand or a cardholder using just a piece of wire and some glue.
Use this note stand or card holder for special events as placeholders, or as cute reminders on the kitchen counter or office work desk.
Larger pieces of tumbled stones can be used to create toys for your little ones. Some wiggly eyes, bits of cloth or cotton, paint, and your imagination are all you need to do this project.
Tumbled stones can also be easily made into rings, earrings, bracelets, pendants, keychains, tie tacks, paperweights, and many other useful everyday items.
Jewelry
You can make your own jewelry using your beautiful tumbled stones. You just need some wire and glue and you're ready to make your very own wearable art.
The easiest way to do it is to make wire-wrapped handmade jewelry pieces.
Personalized Gifts
Brightly colored and polished tumbled stones make truly wonderful gifts.
If you know someone who will enjoy owning a piece of tumbled stone, you can give it to them as a gift, with a handwritten note about its healing abilities and metaphysical properties so that they'll know just how to use the stones.
Games
Tumbled stones really look like game pieces from your favorite board games. You can use them for this exact same purpose!
You can bury them in a sandbox and have the kids find them all in a treasure hunt game. You can also use two different colored tumbled stones for tic tac toe.
You can even create your own board game and use your tumbled stones as tokens.
Vase Filler
Instead of using pebbles as vase fillers, why not use tumbled stones?
You can choose all the bright and bold colors together, or you can be more color coordinated and just use one color.
Do this in a clear glass vase, making sure to add more tumbled stones in the bottom so that the vase will not easily tip over.
Tumbled stones can support all kinds of stems, whether fresh or artificial!
Home Décor
Tumbled stones can be a beautiful accent for centerpieces, candle holders, mirrors, picture frames, and many other home décor pieces.
You can even place several tumbled stones in a potted plant to add more color to your space.
A potted succulent can be adorned with colorful stones like White Moonstone, Jasper, Banded Amethyst, and Botswana Agate.
Clear glass jars or containers filled with pastel or dark colored tumbled stones not only make lovely decorations but also beautiful gifts.
A big bowl of tumbled stones will make a great centerpiece on your dining table or coffee table. You can put them on your work desk and they will make an interesting conversation starter.
They will surely attract people's attention in a good way.
Not only will you be close to the healing energies of these tumbled stones, they can also work in the background by getting rid of the negative energies in your space.
Make sure to choose medium to large stones because they work best.
You can use wooden bowls or thick glass bowls, but only if you don't mind making a lot of noise when you pour in the tumbled stones or sift through them.
Makeup Brush Holder
Tumbled stones make a unique and beautiful makeup brush holder. Choose a nice and clear case that will fit your tumbled stones and brushes nicely.
Fill it with tumbled stones of your choice at a height that will support your makeup brushes to stand upright.
When you're not using them, you can simply slip the handle of your brushes in the tumbled stones. Their weight will hold the brushes in position.
This can also work for your lip liners, eye liners, eyebrow pencils, and other makeup tools that you have. They will look beautiful sitting on top of your vanity.
Mindfulness, Meditation, and Spiritual Healing
Many people like to use tumbled stones for spiritual healing techniques, for practicing mindfulness, and for meditation.
They are also frequently carried inside pockets or purses as tokens of good luck or as shields against negative energies.
The larger the tumbled stone, the more powerfully they will work for you!
Tumbled Stones Uses as Tools of Alternative Medicine
Tumbled stones are used as energy stones in alternative medicine. They are also used as healing crystals and as chakra stones.
Tumbled stones are often used and placed on different chakra points to relieve different physical, emotional, mental, and spiritual discomforts.
These treatments are not backed or endorsed by scientific research, but they have been in use for centuries because they don't have harmful side effects and only amazing healing benefits.
Do you have any more ideas on tumbled stones uses? What do you usually use them for? Share your thoughts and ideas!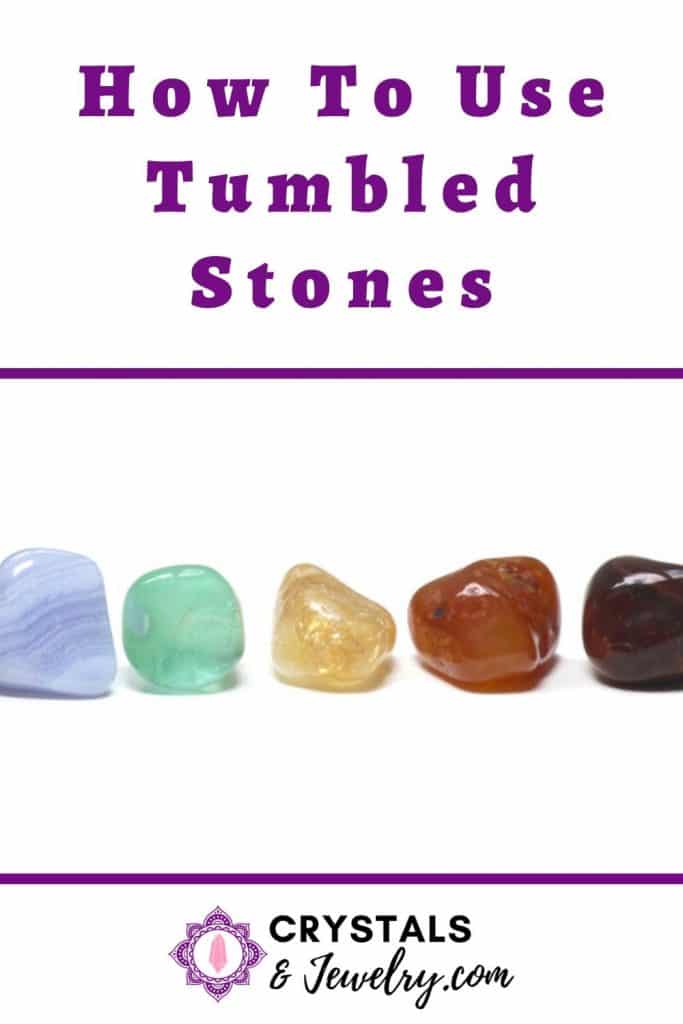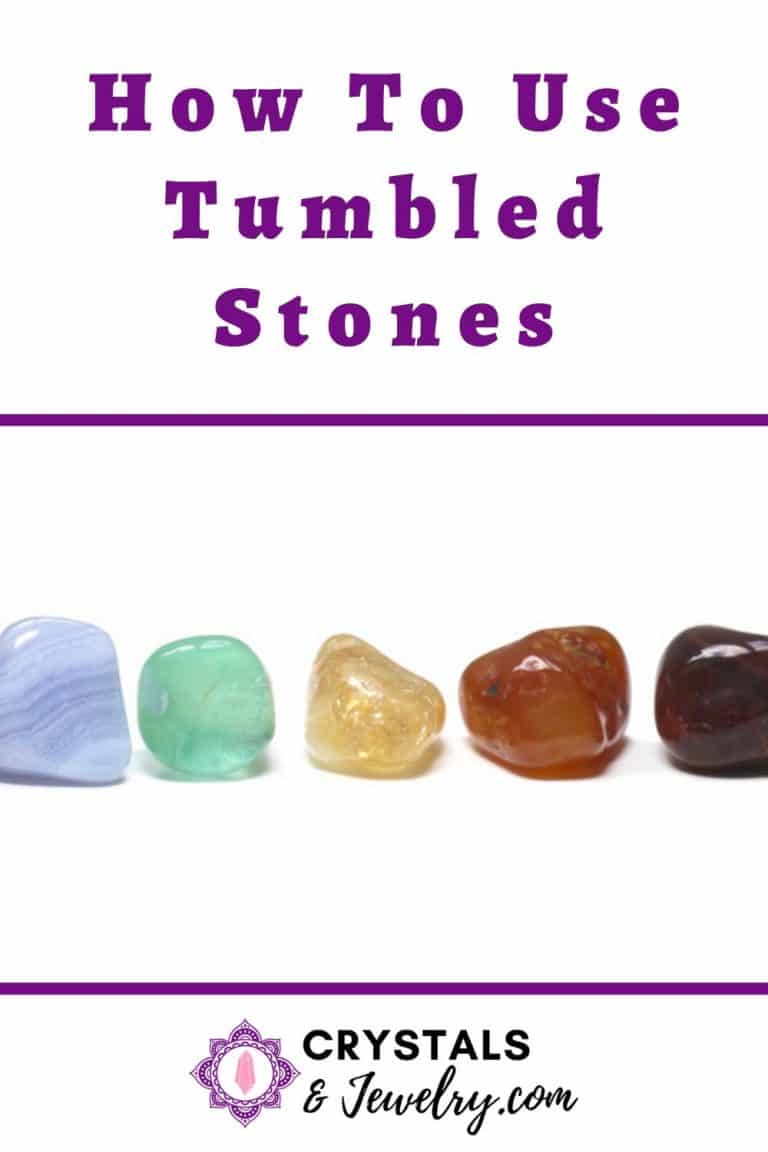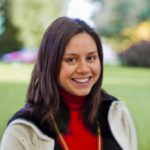 Diana Houston is a respected crystal expert and the author of 'A Beginner's Guide to Healing Crystals: Getting Started With Crystal Healing – A Complete Guide.' Her passion for crystals and their healing properties made her a leading authority on the subject.
Diana's expertise and passion for crystals have inspired countless readers and practitioners, and her book has received rave reviews on Amazon. With her clear and insightful guidance, Diana is a trusted guide for anyone seeking to unlock the transformative power of crystals.
Available on Amazon!