Hiddenite will heal your emotional wounds, harness your personal power, fill your life with love, and manifest all that you desire.
Keep reading if you want to know how this is even possible!
Hiddenite Properties
Hiddenite is a variety of Spodumene. This green gem is a lithium aluminium silicate mineral which is often pleochroic.
Hiddenite is green or yellow in color, but there are others that are just colorless. It's very attractive to collectors because Hiddenite makes for some stunningly beautiful jewelry!
Hiddenite is also known as Green Kunzite or Green Spodumene. Its name was derived from the 19th century mineralogist who first identified it as a mineral. His name was W. E. Hidden.
The most important Hiddenite deposits are located in the USA, Afghanistan, Pakistan, Europe, Brazil, and Madagascar.
Why Would You Use Hiddenite?
Hiddenite will allow you to receive wisdom and knowledge from the higher realms which can enrich your life experiences.
It will allow you to enjoy a deeper, more meaningful, and more enlightened existence. This stone will promote spiritual reflection and help you gain insight about life, people, and the world.
Hiddenite will help you understand your own needs, desires, and goals so that you can have a better shot at happiness and contentment.
It will help you recognize your own strengths and weaknesses so that you can improve or enhance them.
Hiddenite will make you realize the things that you must embrace and the things that you must resist.
It will encourage you to put a brave face on during challenging times, and it will inspire you to work on your inner strength and courage to overcome your challenges.
Hiddenite will also show you how you can let go of feelings of inadequacy or failure.
It will work with you in building up your core so that you will not spend another moment second-guessing or doubting yourself.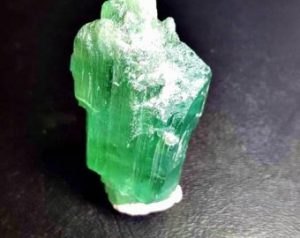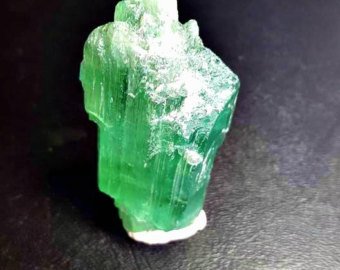 It will remove your unhealthy attachments to material things and meaningless pursuits.
It will make you focus on your long-term goals and the people who have never left your side since the beginning.
Hiddenite will offer physical, emotional, mental, and spiritual protection during tough times.
When you're feeling weak and vulnerable, you will be protected against unwanted and unwelcome external influences.
This stone will always have your back. It will give you support and encouragement when you need to make a fresh new start.
How Will Hiddenite Help You?
Hiddenite, Healing and Health
Hiddenite can help in recovery from addictions. It can also give support in the detoxification and purification process.
It's known to be soothing to the heart and can help in the treatment of certain heart conditions. Hiddenite can boost the functions of the circulatory system and the endocrine system.
It can also be beneficial in the treatment of skin and lung disorders. It can relieve pain associated with rheumatism, and it can protect against arteriosclerosis.
It can enhance mobility for people who have mobility problems, and it can help in stabilizing violent mood swings.
Hiddenite can also eliminate stress and ease the symptoms of anxiety-related illnesses.
Hiddenite and Wealth
Hiddenite is a very protective stone.
It will safeguard your interests and make sure that you are on the right path to achieving your financial goals.
The energies of this stone will give you the freedom you need to execute your ideas and have fun while doing so.
It's a stone that can attract prosperity and inspire business success.
Hiddenite will make you focus working for the real treasures of your life which money and wealth just cannot buy!
Hiddenite, Love and Relationships
Hiddenite is considered a stone of love. It symbolizes unconditional and sensual love.
If you're single, you will find romantic new prospects when you least expect it. If you're in a relationship, you will enjoy many passionate and sensual moments with the person you love.
If you're married, you will gain a second wind after experiencing some challenging times in your marriage.
Hiddenite will work with you in eliminating any kind of emotional blocks.
It will help you release all the love that you can give and all the love that resides in your heart.
This stone will show you just how easily you can experience pure joy and bliss if you will only allow yourself to. You just need to take the first step!
Hiddenite will promote a healthy sense of self-love in a relationship.
You will love your partner very much, and you will prioritize your relationship, but you will not forego giving value to yourself.
The energies of this stone will elevate your self-worth and make you appreciate yourself more.
You will acknowledge all the good things that you contribute to your relationship, and you will feel pretty good about it!
Hiddenite will give you emotional healing. It will help you mend your broken heart and restore the love in your heart.
It will make sure that you will remain hopeful for a new and better love. It will heal you in all the right places so that you will feel like brand new again when the right time comes.
If you're single, the energies of Hiddenite will awaken and attract your true love.
If you're in a relationship, it will test your strength of commitment and just how far you will go to have true love in your life.
Hiddenite is a good stone to have because it will help you express what you truly feel.
You will not mince words, and you will deliver the truth straight because you believe that it's better to be honest than live a lie. Hiddenite will foster trust in your relationship.
You will not be the kind of partner who will demand hourly texts and check-ins because you will put your complete faith in your partner.
Hiddenite will bring energies of joy and bliss, which you will happily share with the person you love. It will also give you the ability to develop truly loving and lasting relationships.
With the help of Hiddenite, you can bring back the youthful energy and enthusiasm in your tired relationship.
You will be able to rekindle the passion and strengthen your commitment to one another.
You will be able to accept the things that you can no longer change, and you will be able to find happiness and satisfaction in your circumstances.
The energies of Hiddenite will help you find hope in any kind of situation. You will be able to get rid of the negativity that plagues your relationship.
You will learn the value of spontaneity in your relationship, as well as the need to constantly renew yourself and your commitment to the person you love.
Hiddenite will bring energies of forgiveness and compassion. It will make you grateful for the good times and the bad times.
It will also help you manifest all your desires for your relationship when you are willing to make the necessary sacrifices.
How to Use Hiddenite for the Best Results?
Keep a piece of Hiddenite in your pocket or your purse to release your stress and keep a handle on your emotions.
Place it away from direct sunlight exposure. Cleanse it once a week under running water, and charge it with other rock crystals.
Hiddenite makes a fantastic meditation tool also. Its versatility means that how you introduce it to your meditation ritual is largely up to you!
Some people prefer to wear some jewelry made with Hiddenite, whereas others like to set out their stones, including this one, around their sacred meditating space.
You might also prefer holding the stone to connect directly to its energies.
During meditation, you'll find that this crystal will really open your heart, and likewise work wonders in aiding you in overcoming emotional upset or forgiving those who have trampled all over your feelings – willingly or no.
If you're lacking in confidence, Hiddenite can likewise inspire you to "take heart" in being brave in pursuing what you want!
The Best Combination to Use with Hiddenite
Hiddenite goes well with Pink Tourmaline, Rose Quartz, Green Tourmaline, Rhodonite, Aventurine, and Emerald.
If you want to enhance the love you have in your life, you can pair your Hiddenite with Danburite, or other high energy stones and crystals.
You can pair it with Phenacite, Herderite, Petalite, Moldavite, and Natrolite.
When you're feeling stressed, try wearing Hiddenite with Lilac Lepidolite.
If you wish to deal with your emotional problems with more strength, courage, and patience, you can wear Hiddenite with Pink Tourmaline, Lithium Quartz, and Amblygonite.
You can also combine it with its sister stone, the Pink Kunzite. It will also work well with Rose Quartz, Morganite, Variscite, Green Apophyllite, Gaspeite, Green Tourmaline, Green Aventurine, Eudialyte, and Crocoite.
What Chakra is Hiddenite?
Hiddenite is well-recognized for its incredible work with the heart chakra. This stone imparts the understanding of unconditional love on whoever wears this stone.
Wearing or placing a piece of Hiddenite close to the heart chakra can release the blockages in this chakra.
It also strengthens your desire to love others simply for the sake of loving and without feeling the need to be in control.
The green shades of this stone stimulate the heart chakra, encouraging your interaction with the world and giving you the confidence to conduct yourself well.
When the heart chakra becomes unbalanced, it will make you overly critical of others, and it will be very easy for other people to control you.
Hiddenite helps to heal deep emotional traumas and allows you to accept and give love on all levels.
This stone opens your heart's center to divine love and helps you on your path of recovery from abuse or addiction.
Hiddenite has an exceptional energy of addressing the issues and rebalancing the heart chakra. As a result, you will have a better understanding of what you truly need and desire.
It gives you the energy to accept the changes that are currently happening or will soon take place in your life.
Hiddenite is a great healing stone that will work on your physical and emotional issues. It will rejuvenate your body and mind.
It will also help you release your unhealthy attachments by opening up your heart to joy and hope. This stone will push out all the negative energies and leave only room for divine love.
Hiddenite has wonderful characteristics that can help in treating your heart chakra. It teaches you that the best kind of love is the love that does not expect anything in return.
When you wear it close to your heart chakra, you are also allowing the negative energies to be cleansed and cleared by this stone.
This beautiful, soothing, and comforting stone is also known as a stone of growth. Its nurturing colors encourage your overall growth in terms of attitude, thoughts, approach, health, and spirituality.
Hiddenite energies are believed to affect the heart and stir your emotions so that you can be connected to more loving thoughts and feelings.
When worn against the heart chakra, it will invite you to become more genuine and spontaneous in front of people.
It will also encourage you to shower the people you care about with unconditional love without fearing the outcomes.
It will allow you to see that love can break you sometimes, but it's also one of the most beautiful and most rewarding things that you can ever give and receive.
Hiddenite will change how you feel or think about material riches. It will convince you that material wealth is not the only measure to your life.
It's a stone that will connect you to the supreme being who created everything in this world. It will also allow you to better enjoy all the big and small moments of your life with passion and enthusiasm!
My Final Thoughts on the Power of Hiddenite
Hiddenite is the gemstone you never knew you needed.
Not only is it an excellent stone to attract wealth, abundance, and prosperity, it will also help you find true love!
It's a powerful heart chakra stone that will support and protect your emotions.
It's a stone that will help you get over the pain of a broken heart and deal with your emotional loss with grace and confidence.
Hiddenite is a very calming and soothing stone that will promote kindness, compassion, and trust.
It will also stimulate your intellect and guide you in making the best decisions for yourself and the people who are important to you.
It's a stone that will bring repressed thoughts and emotions to the surface and give you the emotional release that you need.
With the help of this stone, you will be able to find true love and enjoy a happier and healthier relationship.
Hiddenite will foster love and gratitude in your life and in all your relationships!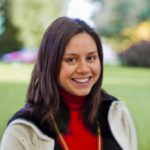 Diana Houston is a respected crystal expert and the author of 'A Beginner's Guide to Healing Crystals: Getting Started With Crystal Healing – A Complete Guide.' Her passion for crystals and their healing properties made her a leading authority on the subject.
Diana's expertise and passion for crystals have inspired countless readers and practitioners, and her book has received rave reviews on Amazon. With her clear and insightful guidance, Diana is a trusted guide for anyone seeking to unlock the transformative power of crystals.
Available on Amazon!